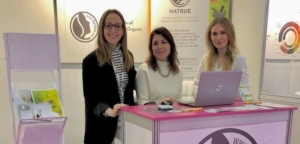 After a three year pause NATRUE was thrilled to attend in-cosmetics Global 2022, one of the most significant international tradeshows in the beauty, personal care and fragrances industries.
A strong comeback after a three-year pause
Covering areas dedicated to new ingredient launches to demonstration of the latest trends, visitors and exhibitors from all over the world met at in-cosmetics 2022. The Parisian show was a reference point to discover new ingredients and techniques, meet international suppliers, and get inspired by expert conferences, that covered a wide range of topics, from marketing trends and innovations to formulation techniques or the latest developments in sustainable beauty. This is the first edition of the show since 2019, and this year more than 800 companies and over 8,000 cosmetic and personal care professionals attended the in-person event that took place from 4 to 7 April 2022!
Current trends
The increased interest of consumers in wellness, health and the protection of the environment has boosted the demand for natural and organic cosmetics. We all want to be reassured about the composition of products, and transparency – for instance, in terms of ingredient origin, ethical, social and environmental footprint  – remains a current tendencies.
Sustainability was another major topic, and specifically bio-based products i.e., those made wholly or in-part from renewable raw materials. Today, in Europe, each inhabitant generates in average 0.5 tonnes of municipal solid waste per year – around 40-50% of which corresponds to organic waste[1]. Bio-based products obtained from waste treatment can contribute to the environmental and socio-economical sustainability. By using waste to create new products, upcycling promises manufacturing circularity. An example of such an initiative where NATRUE is involved is as the EU-funded URBIOFIN  project.
Other trends observed in the show were Clean Beauty, Personalization, Waterless products, and CBD. In this sense, one of the most popular features at the show was the Innovation Zone, an area that showcased the newest raw materials in the market.
This year's exhibitor directory boasted more than 800 companies – raw material suppliers of personal care ingredients, fragrances, lab equipment, testing and regulatory solutions – that included 66 new exhibitors, like NATRUE.
NATRUE exhibited for the first time!
During these three days, visitors and exhibitors came to the NATRUE stand to learn about its certification process, the benefits of carrying the NATRUE Label and NATRUE's commitment for transparency. Moreover, in-cosmetics Global was the perfect occasion to explain NATRUE's Raw Materials Scheme.
In January 2020, NATRUE implemented a new option to further facilitate and promote the formulation of NATRUE certified finished products. With the implementation of this new Raw Material Scheme, NATRUE reaffirms its position as strict benchmark for the certification of natural and organic raw materials for the formulation of high-quality natural and organic cosmetics.
In-cosmetics Global 2023 will take place from 28 to 30 March in Barcelona (Spain)
See you there!