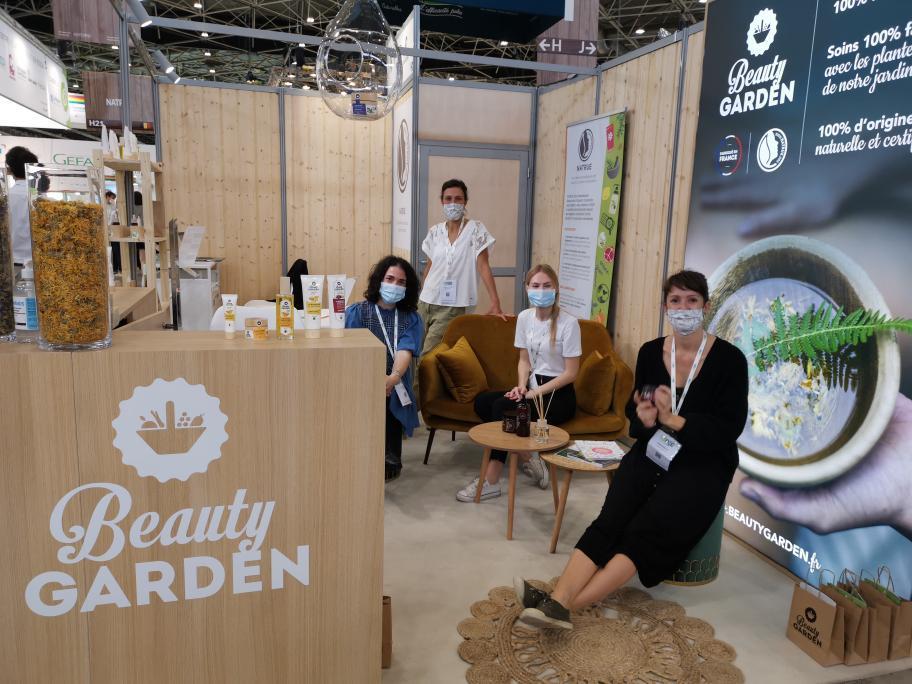 NATRUE and Beauty Garden co-exhibited in NATEXPO 2020, the biggest organic trade show in France, which took place on 21 and 22 September in Lyon. At the heart of Auvergne-Rhône-Alpes, a leading organic region in France, NATEXPO 2020 welcomed close to 8000 visitors and counted with 600 exhibitors that presented the latest innovations and products in the natural and organic sector.
A growing market
The natural and organic market has steadily grown for the past 10 years, a pattern that has been boosted even more during the current covid-19 crisis. Consumers look now more than ever for natural and organic products that are sustainable, healthy, environmentally friendly and ethical. Particularly in the natural and organic cosmetic sector, product innovation is increasingly influenced by a sustainable and environmentally friendly approach "from the crop to the shop".
In 2018, the market for organic and natural cosmetics reached €11 billion of sales worldwide, and estimations indicate that it will exceed €5 billion in sales alone in Europe between 2020 and 2023[1]. France remains the second largest consumer market for organic products in Europe after Germany.
New trends in cosmetics: bulk and refilling, zero waste and multifunctionality
Buying in bulk is no longer a trend exclusively associated to food products. As part of their commitment to reduce packaging and offering an eco-friendlier purchase experience to consumers, many natural and organic cosmetic brands are exploring options to offer their products in bulk in specialized natural and organic shops. Several organic supermarket chains in Europe already collaborate with cosmetic brands to offer bulk options for liquid soaps and shampoos through dispensing machines so that customers can directly buy the product in bulk using reusable containers.
Refilling options are also increasingly popular as they meet the consumer demand for sustainable products in line with the circular economy principle of reuse of materials. Refilling soap liquids are already marketed by international natural and organic cosmetic brands such as alverde and lavera, whose products are certified with the NATRUE Label.
Since zero waste is also a key aspect for many consumers looking for sustainable natural and organic cosmetics, cosmetic packaging is increasingly being redesigned to reduce or completely avoid waste. Smart packaging that help consumers completely emptying the bottle or tub and smaller packaging that allow to easily finish the product before their "use by" date are some of the solutions that brands are opting for to reduce product waste.
Apart from limiting the use of plastics in packaging and using recycled materials, many natural and organic beauty brands are going a step further by developing innovative formats that contribute to a drastic reduction of the packaging of certain cosmetic products. Some examples of such formats can be found in deodorant creams, solid soaps and shampoos and toothpaste tablets.
Although many consumers of natural and organic cosmetics still look for singularity in the function and effect of the products they purchase, multifunctionality is also valued by consumers that want to maximize their investment on a product. Multifunctional products are considered as a practical option specially for those who want to simplify their purchase decisions by having the option to use the same product for different purposes. A common example of multifunctional cosmetics are shampoo + shower gels, but some brands are going further in their quest for multifunctionality. For instance, the French organic cosmetic brand Beauty Garden has recently launched a blackcurrant mask that can be used both for face and hair care.
More demand for solid cosmetics
2020 has seen a great growth in the sales of solid cosmetics, specially soaps and shampoos. The growing popularity of solid cosmetics is mainly linked to their sustainable profile, as most of these are often zero waste products. However, solid soaps in particular have made an impressive comeback in 2020 due to concerns regarding hand hygiene in the context of the covid-19 pandemic. Liquid hand soaps and hand sprays and creams are also among the most sold cosmetics in 2020.
Beauty Garden, NATRUE's co-exhibitor in NATEXPO 2020
"From the seed to the cream" is Beauty Garden's motto. This French brand, born in 2014, cultivates directly in its farm in Corrèze the flowers, herbs and vegetables used in their organic herbal teas and cosmetics. Beauty Garden's organic skincare products carry the NATRUE Label and are a great example of local, sustainable cosmetics. In this NATEXPO 2020 edition, Beauty Garden presented some of their newest products, such as a blackcurrant shampoo + shower gel and a blackcurrant face and hair mask.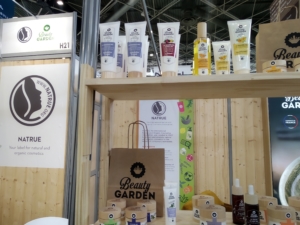 "Beauty Garden is a great example of the values that the NATRUE Label represent: commitment to authentic natural and organic cosmetics, transparency and sustainability", said Ana Ledesma, NATRUE's Communications Officer. "NATRUE and Beauty Garden share the common goal to protect and promote authentic natural and organic cosmetics with exceptionally high-quality standards".
When asked about what the NATRUE Label represents for Beauty Garden, Marie Bardou Chazalette, Responsible for the Beauty Garden brand, replied: "Since its creation in 2014, Beauty Garden has worked with the NATRUE Label. For us it was clear from the beginning that we wanted to have the strictest criteria to ensure that our customers get the best guarantees. The NATRUE Label adds value to our products as a reliable, international benchmark for natural and organic cosmetics".
Save the date!
NATEXPO 2021 will take place from 24 to 26 October 2021 in Paris, France.
Stay tuned for more details!
[1] Naturality, loose goods, zero waste: Natexpo 2020 unveils the latest trends on the organic cosmetics market (March 2020): https://natexpo.com/en/naturalite-vrac-zero-gachis-les-dernieres-tendances-du-marche-cosmetiques-bio-seront-a-natexpo/