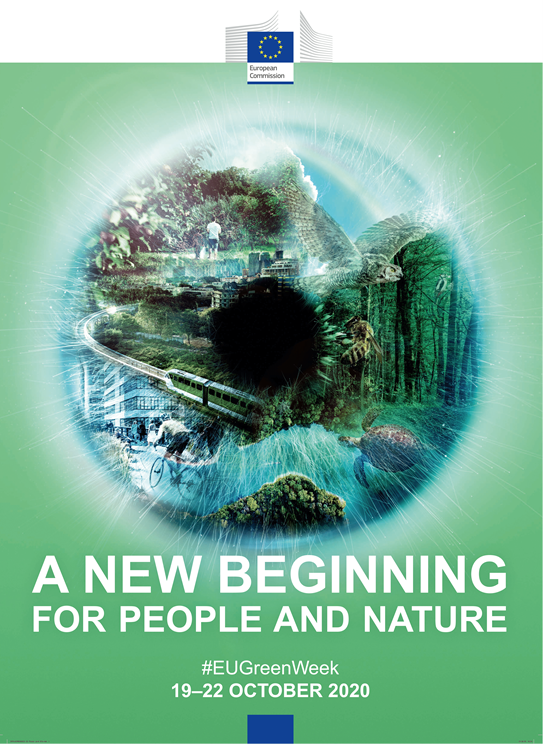 Organised by the European Commission's Directorate-General for Environment, the EU Green Week is Europe's biggest annual conference on environment policy. This year's edition, an online event which took place on 20-23rd October, brought together participants from government, industry and associations to exchange ideas and best practices on the theme of nature and biodiversity. In the session "Nature and Cosmetic Products", NATRUE members WALA Heilmittel (Dr. Hauschka) and N&B "Natural is Better" showcased the contribution of the natural and organic cosmetic sector to the protection of biodiversity through sustainable cultivation projects of arnica (WALA) and aloe vera (N&B "Natural is Better").
A new beginning for people and nature: the contribution of biodiversity
The EU Green Week 2020 edition highlighted the contribution that biodiversity can make to society and the economy. In a post-pandemic world, biodiversity will play a key role to support and stimulate recovery, promoting sustainable growth and the creation of jobs. Many examples of this contribution can already be found in the natural and organic cosmetic sector, where biodiversity and environmental protection are an essential part of the work of many companies and private standards, such as the NATRUE one.
Biodiversity and natural resources in the cosmetic industry
Natural raw materials are essential for the formulation of natural and organic cosmetics. Without access to a supply of renewable natural resources, the natural and organic cosmetic sector could not have thrived. Striking a balance between sustainable production and biodiversity protection is more critical than ever for the whole industry and particularly for the natural and organic cosmetic sector, which is expected to keeping growing in the coming years due to increasing consumer demand.
The contribution of the natural and organic cosmetic sector to biodiversity protection and economic development of local and rural communities was examined in the EU Green Week's session "Nature and Cosmetic Products", which showcased best practices to promote biodiversity protection and the sustainable use of natural resources in the cosmetics industry. In an inspiring exchange aiming to contribute to biodiversity protection and to support economic and social recovery, NATRUE Members Wala Heilmittel GmbH (Dr. Hauschka) and N&B "Natural is Better" presented key case studies of sustainable cultivation of arnica in the Black Forest (Germany) and aloe vera in Martano (Italy), respectively.
The Arnica Project – Wala Heilmittel GmbH/Dr Hauschka Skin Care

Photo: Arnica fields in the Black Forest (Germany) / Credit: Wala Heilmittel GmbH/Dr Hauschka Skin Care
Hans-Jörg Rösch, Team Leader Cosmetic Safety & Information and Biodiversity Representative at Wala Heilmittel GmbH/Dr Hauschka Skin Care, opened the round of presentations of the "Nature and Cosmetic Products" session introducing the Arnica Project that Wala Heilmittel GmbH carries out in the Black Forest (Germany).
For centuries, arnica has been used as a healing and soothing remedy. In cosmetics it is often used for its regenerating properties. Arnica extracts are very powerful, but the plant is very sensitive, which explains why it has increasingly become rare in Europe, despite being a native species. "Fertilizers have wiped out arnica and the biodiversity linked to it. And without diversity, nature cannot thrive", said Hans-Jörg Rösch.
Committed to contributing to restoring nature and protecting biodiversity, Wala Heilmittel GmbH collects close to 10 types of plants directly from wild collection, one of them being arnica. Their meadow in the Black Forest, which WALA cultivates since the 1980s, is one of the many projects the company behind the Dr. Hauschka brand carries out to support biodiversity. "The meadow is maintained carefully: no fertilizers are used and plants are collected by hand. Through selective use of the meadows, we actively protect this habitat and prevent arnica from disappearing", explained Hans-Jörg Rösch.
Martano, the city of aloe – "N&B Natural is Better"


Photo: Aloe vera plantation / Credit: N&B "Natural is Better"
Domenico Scordari, President & CEO of N&B "Natural is Better", explained how this Italian company, which was founded as a family company 31 years ago, is today a leader company in the production of organic and sustainable cosmetics for private labels worldwide. From nature to beauty, respecting people and the planet: that's how N&B "Natural is Better" envisions their production cycle. "Innovation and sustainability is a winning combination", explains Domenico Scordari. Despite distributing their products in more than 60 countries worldwide, N&B "Natural is Better" thinks local: "We have a positive impact on our local community, in Martano. We give back to the community by investing on biodiversity and sustainability. It's the best way to make a better planet", explains Domenico.
Twenty years ago, N&B "Natural is Better" started an aloe vera plantation in a big farm in Martano, in the south of Italy. Today, thanks to the favourable climate of the region and the sustainable cultivation practices, over 10,000 aloe vera plants, whose high-quality extracts are used in the cosmetics developed by N&B "Natural is Better", thrive in Martano. Looking to engage young people at local level, N&B "Natural is Better" is currently developing a "District of Aloe" to teach tnew generations how to create start-ups to cultivate aloe vera in the region. "Full respect of biodiversity is not just a way to protect the planet, but also a chance to give new generations business opportunities", commented Domenico Scordari. "We are not dreamers: we are game changers", he added.
Cosmetics that embody consumer choices and values
As showcased in the presentations of WALA and N&B "Natural is Better", cosmetic production and natural resources protection can work in harmony to guarantee high quality products that support biodiversity protection while aligning with the values and expectations of consumers.
In the absence of a legal definition of "natural" and "organic" cosmetics in Europe, consumer demands for more transparency and clarity with regard to these claims are met by the NATRUE Label, which establishes a high and transparent standard for natural and organic cosmetics. From the extraction to the production and processing of the ingredients used in the formulation of the product, the NATRUE criteria sets rigorous requirements to support the protection of the environment and biodiversity, as well as the use of natural and sustainable ingredients in all NATRUE certified products.
Click on the links below to download the presentations of WALA and N&B "Natural is Better" at the EU Green Week 2020: