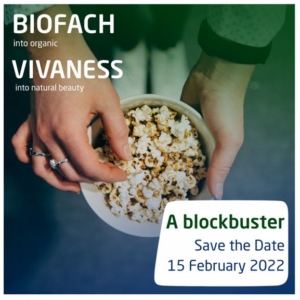 A few weeks ago, the NürnbergMesse GmbH announced through an official press release that VIVANESS is postponed to 26 – 29 July 2022 due to the extremely critical pandemic situation resulting from the spread of the COVID-19 Omicron variant -official press release here.
Despite the postponement, the BIOFACH – VIVANESS board of directors, together with the support of the sponsors, among them NATRUE, have decided to organize the "BIOFACH / VIVANESS 2022 Sneak Preview & Insights", a completely free digital event taking place on 15th  February 2022! 
What is the event about?
The event will be an opportunity to take stock of the organic food and natural and organic cosmetics market! You can expect two sessions with insights on the international and national markets for organic food and natural and organic cosmetics.
Please, see the official communication.
Are you interested in participating?
The registration process is very simple! Follow these steps:
1️⃣ Get the link
– If you are an exhibitor, visitor, or media representative, you will receive an invitation with the link for the registration page online.
– If you are none of the above and you want to participate, you can sign up for their newsletter to receive the invitation next week by clicking here.
2️⃣  Fill in the data in a form 
3️⃣ Confirm the registration in a separate email. Subsequently, you will receive the link for the Livestream on 15th February.
So save 15th February in your calendar as well as the new dates of VIVANESS 2022 Summer Edition from 26 – 29 July 2022
😊
If you have any further questions, please contact us.